NAME
ABSTRACT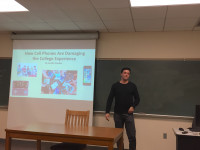 HOW CELL PHONES ARE DAMAGING THE COLLEGE EXPERIENCE
While admissions counselors and tour guides try to sell the college experience on life-long friendships, rivalry sports,and a rewarding learning environment, they often underestimate the presence of another factor: cell phone use. The cell phone is becoming an increasingly important device in the lives of college students. However, there are clear downsides to cell phone use, which this literature review examined in greatermdetail. With emerging adulthood being seen more and more as an age for frequent screen time that includes behaviors such as, texting and social networking, this literature review sought to examine the negative effects of cell phone use on undergraduate students. The review first looked briefly at how the cell phone became the most-widely and frequently used technological object over the past 40 years. The literature then touched on how cell phone use hasbrought out addiction-type behaviors in its users, similar to what had previously been seen with excessive Internet use only a few years before. Most importantly, the literature review investigated the effects of cell phone use on undergraduate college students in five areas: life satisfaction, relationships, academic performance, stress, and sleep quality. With most of the data being collected through self-reports, the research for this literature review ultimately found that cell phone use was, for the majority, negatively and significantly related to each of the five factors examined.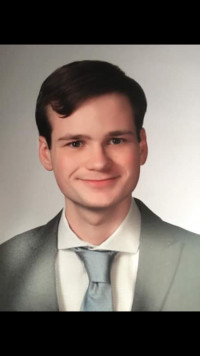 THE ETHICAL TREATMENT OF HUMAN AND NONHUMAN ANIMALS IN PSYCHOLOGICAL RESEARCH
Any individual intending to engage in research with human or nonhuman animals should possess an in-depth understanding of prominent ethical theories and practices. Researchers have anobligation to minimize the potential distress or suffering of their subjects through the integration of ethical concepts into their research procedures. Individuals desiring to better understand the role of ethics in scientific research should examine previous experiments that have been criticized for their methodology, significant documents establishing ethical procedures, and government legislation. When working with human participants, experimenters have a moral responsibility to acquire informed consent, avoid the use of protected populations, and to maximize potential benefits while also minimizing risks. In comparison, experimenters working with nonhuman animals need to conduct cost-benefit analyses and consider the "3 R's" presented by Russell and Burch (Russell & Burch, 1999). The intention of this thesis is to provide a critical analysis of ethical concepts and to examine how they are incorporated, or disregarded, in scientific research.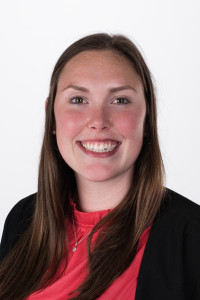 MISCONNECTING ONLINE: MOTIVES AND CONSEQUENCES FOR SOCIAL NETWORKING SITE USE
Social networking sites (SNS) have increased in popularity over the past decade, especially among emerging adults. Prior research suggests the motives people have for using SNS and the potential negative effects these sites can have on an individual's psychological well-being. This literature, focusing on emerging adults, identifies three motives people have for using SNS: self-evaluation, self-esteem, and sense of belonging. The social comparison theory (SCT) is a key framework that can help us to understand why and how people evaluate themselves. Additionally, SCT served as a mediator and moderator between different factors that affect a person's psychological well-being. Sense of belonging is identified as a motive due to users' concerns of social status and the fear of missing out (FOMO). Limitations of past studies include very few researchers making recommendations on ways to deal with the discovered negative effects of SNS use. Future research should investigate ways to prevent the downsides associated with SNS use from occurring, as well as how to properly educate younger generations regarding the negative psychological effects.
A CROOKED LAWYER'S GUIDE TO WITNESS MANIPULATION AND THE JUSTICE SYSTEM'S GUIDE TO STOPPING IT: THE FALLABILITY OF EYEWITNESS TESTIMONY
Given the nature of the adversarial legal system in the United States, attorneys have ample motive to go outside the bounds of moral conduct during case preparation for their own personal gain. T here is evidence suggesting that this happens at least occasionally. This review of the literature specifically covers how lawyers could engage in personally-beneficial but systematically-damaging manipulations of eyewitnesses. Based on the findings discussed here, lawyers could use methods such as feedback and rehearsal to artificially inflate or deflate witness confidence, thus changing the degree of believability that witnesses will have before a jury. Furthermore, witness memory of key crime details could be altered through the misinformation effect. Psychological research has not only exposed these dangers, but also provided some information on ways the detrimental practices could be counteracted by small changes to the United States legal system. Some of the possible remedies for these "dirty tricks" include witness education, juror education, specific types of questioning that can mitigate the misinformation effect and filming witnesses during initial police interviews to provide a record of witnesses as they were prior to manipulations of confidence and memory accuracy by unethical attorneys.
THE IMPORTANCE OF PERSON FIT IN ORGANIZATIONAL SETTINGS
The goal of this literature review is to examine the importance and impact of a person's fit as an employee in organizational settings. Fit is defined as comparing internal aspects of employees (e.g., goals, values, and personality) with relevant elements of their work such as the organization's or supervisors' goals, values, and personality. This literature review will also discuss several different aspects of fit such as person-job fit, person-organization fit, and person-supervisor fit and will describe how each has an impact on employees and organizations. In addition, this literature review will examine five personality traits that also play a role and contribute to fit and work outcome. Research suggests that fit is crucial in having successful employees that support and are committed to the organization they work for. When fit is present there are many positive outcomes for both the employee and organization such as lower turnover, higher productivity, better performance, and higher job satisfaction. When fit is not present there are many common negative work outcomes for both the employee and organization. These outcomes include higher turnover, lower productivity, lower work engagement, and lower motivation.
PROMOTING ATTACHMENT SECURITY THROUGH PREVENTION AND INTERVENTION PROGRAMS
In any environment, there is an opportunity for optimal and less than optimal outcomes of development. Bowlby proposed the attachment theory to explain the way that infants rely on their mother or primary caregivers to survive and evolve. Ainsworth proposed that there might be individual differences in behaviors that are able to be observed in a laboratory setting and then later categorized based on security. More attachment security has been associated with more favorable outcomes. There are four prevention and intervention programs that focus on maternal sensitivity in order to hopefully enhance infant attachment security (Child-Parent Psychotherapy (CPP), The Attachment and Biobehavioral Catch-Up program (ABC), The Video-Feedback Intervention to Promote Positive Parenting program (VIPP), and The Circle of Security (COS) program). The current literature review explores what therapies work best and for whom based on empirical evidence. Finally, it explores what ways that insecure attachment can be prevented by alternative support figures and measuring attachment in adulthood. Researchers have agreed on that attachment security generally remains stable unless there is significant effort or a dramatic change in environment.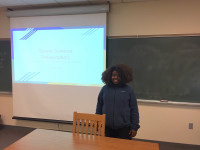 LIVING WITH A CHRONIC ILLNESS: COPING MECHANISMS AND MENTAL HEALTH
The goal of this literature review is to discuss coping mechanisms and mental health among people who have chronic illnesses. A chronic illness is defined as a condition that is lifelong and hinders one's ability to do daily activities such as attend school or work. Coping mechanisms are ways that people deal with stressful life events. In this literature review, I will discuss different types of coping mechanisms that people use, how some people develop certain coping mechanisms, and mental health outcomes for four specific chronic illnesses which are alopecia areata, type 1 diabetes, crohn's and colitis (which are classified as one for the purpose of the literature review) and vitiligo. I reviewed studies that were self- reports, surveys, as well as experiments to assess mental health. Coping mechanisms that worked well for participants were ones that were active which helped them adapt to the chronic illness for the long term rather than passive coping which only helped with their stress in the short term. Participants also had higher signs of depression and anxiety when compared with controls.
 THE CHILD WITNESS: CHALLENGES AND REFORMS
The child witness population is essential to due process; yet,they are often overlooked due to their vulnerability and perceived ineffectiveness as witnesses (Cashmore & Bussey, 1996). Despite limitations related to children's memories (Jack, Leov, & Zajac, 2014), linguistic abilities (Katz & Hershowitz, 2012), anxiety (Nathanson & Saywitz, 2003), and vulnerability to suggestion by interviewers (Almerigogna, Ost, Bull, & Akehurst, 2007), researchers have proposed many solutions to handle challenges associated with child witnesses. This paper examines memory, language, anxiety, and interviewer related limitations in detail and then offers solutions for each. While research on the actual child witness population is limited, some researchers have found ways to mitigate limitationsby studying children that were scheduled to participate or who had already participated as witnesses. They found that pretrial education programs (Nathanson & Saywitz, 2015) and NICHD protocol (Pipe, Orbach, Abbot, Lamb, & Stewart, 2013) created specifically for child witnesses effectively mitigated many limitations. As a result, the paper concludes by suggesting broad implementation of these programs in the Untied States.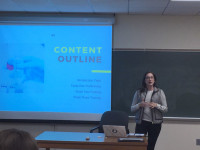 THE DIAGNOSIS OF CANCER: IMPACT OF PHYSICIAN-PATIENT COMMUNICATION
Physician-patient communication is a multifaceted concept at the core of clinical practices. Cancer communication is difficult and not emphasized as an important component of the patients' experiences. This literature review aimed to discover the impact of physician-patient communication during the initial window of time when a cancer diagnosis is delivered. There are a variety of barriers and challenges in cancer communication; when cancer is diagnosed, it is a stressful experience for both the patient and the physician. This review examined the factors that contribute to a less stressful diagnosis for both parties, such as facilitation, communication styles, the power of framing, patient perceptions, and emotional support. Additionally, this review analyzed challenging moderating factors such as gender, age, and ethnicity and the current medical training for delivering bad news. Additionally, physician-patient communication in cancer care warrants more research.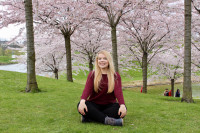 TOOLS TO ENHANCE TRANSFER OF LEARNING IN THE CLASSROOM
This paper explores the importance of transfer of learning and tools for enhancing transfer inside of the classroom. The transfer of learning is when we apply knowledge previously learned from one situation to a new one and is an important goal of education. Research has provided evidence for testing with elements of presentation and feedback for enhancing this transfer of learning. Specifically, the use interleaved practice material, summaries, reminding, group work, and guided instruction to promote transfer for later final testing. Repeated testing rather than repeated studying has also been found to help enhance transfer. After a test is administered, explanation and delayed feedback will provide students with further opportunities for transfer. Although studies are providing support for these tools, there are limitations to the research in terms of setting of studies conducted, age of participants, type of material, etc. Keeping these limitations in mind, research has supported using these tools for enhancing transfer of learning, therefore, trying to implement these tools can lead educators towards a path of increased transfer amongst their students.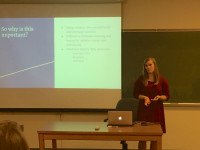 SLEEP AND ATHLETES: CRITICAL REVIEW OF THE IMPACT OF SLEEP ON ATHLETIC PERFORMANCE AND OF EXERCISE ON NIGHTTIME SLEEP HABITS
The purpose of this literature review is to investigate what exactly sleep is and how it is measured in a laboratory setting. Although there are many subjective and objective measures, polysomnography is the gold standard when it comes to measuring sleep. In the study of athletes, however, polysomnography is much less common and the utilization of sleep diaries and actigraphy is much more frequent. This review will delve into the specifics of how long and the quality of sleep in athletes. The studies presented in the following pages will explain how athletic  and cognitive performance are improved or decreased whether sleep is extended or restricted. Other studies will focus on the timing of exercise and how training loads impact sleep that night. More research certainly needs to be conducted in the United States since a majority of the research has been done abroad. Perhaps more research needs to be done on athletes so that athletic performance can continue to be improved in the years to come.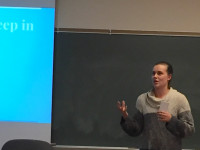 ALCOHOL CONSUMPTION: THE EFFECTS ON SLEEP IN YOUNG ADULTS
The purpose of this literature review is to examine the relationship between alcohol consumption and sleep and determine which aspects of sleep are most important for development and how alcohol affects these different aspects of sleep. When examining the effects of alcohol on sleep it has been found that the amount of time spent in REM sleep decreases in the first half of sleep and then produces a rebound effect in the second portion of the night during a normal nights sleep, but not after alcohol consumption. Sleep onset latency and daytime sleepiness increase and NREM sleep changes most in stages two and three. The combination of alcohol and sleep deprivation increase the chances of developing a sleeping disorder as well as engaging in risk- taking behavior. The literature review begins by addressing the two concepts as separate patrons and then closes by looking at the relationship between alcohol and sleep as a whole. While there is evidence supporting the claim that alcohol has an effect on sleep, there is much more to learn about the relationship between alcohol and sleep and further research should be done.
 PREVENTATIVE HEALTHCARE: IMPACTFUL INTERVENTIONS IN SMOKING AND PHYSICAL ACTIVITY
Many health problems and premature deaths related to smoking and physical inactivity can be prevented. This review focuses on a handful of approaches for promoting smoking cessation, with a focus on extrinsic and intrinsic motivators. In addition to those approaches, a wide range of methods will be analyzed to determine the best ways to promote physical activity. These methods primarily focus on daily steps, improving environmental supports for physical activity, and improving self-efficacy in relation to physical activity. Many of the methods used to promote smoking cessation are applicable to promoting physical activity, however due to the immense research base covering this variety of topics, this review will only focus on one of the methods that is applicable to both domains, which is gamification. In the United States alone, the economic cost of lost labor due to health reasons equals $260 billion per year. By educating people on healthy behaviors, such as diet and exercise, and giving them the tools necessary to carry out those behaviors, as well as discouraging people from unhealthy behaviors such as smoking, not only can the cost of healthcare be greatly reduced, but the quality of life and longevity of humans can also improve.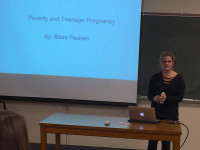 POVERTY AND RISKY SEXUAL BEHAVIOR: DECLINING YET STILL DETRIMENTAL
The purpose of this literature review is to investigate poverty and the effects it has on a adolescents involvement in risky sexual behavior. Poverty has decreased throughout the years in the United States, however it still remains an epidemic as it leaves 14 million Americans living in extremely impoverished neighborhoods (Luhby, 2016). The problem with this number is that the individuals suffering the most from extreme poverty are adolescents, this leads to complications with their development and health (Moore et al., 2009). Children living in long term poverty experience even higher risks of being stuck in their economic condition for life (Moore et al., 2009). The current research concentrates on the poverty rates and the risky behaviors that it can create along with the problems children face growing up in impoverished neighborhoods. From these effects children can end up experiencing negative consequences that affect their life forever. This literature focuses on how poverty has a larger effect on risky sexual behavior in adolescents leading to the increased vulnerability for pregnancy, STDs and abortions among this age group. There is a lack of programs to help properly educate adolescents on the ways to avoid these consequences. The programs that are available typically lack in the area of educating our youth and relaying proper, detailed information. In depth educational programs need to be implemented in the school systems to teach adolescents about the possible effects of their risky behavior. By having more educational and health services available to adolescents risky behavior would hopefully decrease in poor adolescents. 
WHY WOMEN ENTER AND STAY IN RELATIONSHIPS WITH INTIMATE PARTNER VIOLENCE
Intimate partner violence (IPV) is the physical, psychological and sexual abuse committed against a woman by a current or former partner (Jewkes, 2002). IPV is a substantial public health issue, affecting one in three women and one in four men in the United States (Black, Basile, Breiding, Smith, Walters, Merrick, Chen & Stevens, 2010). Past literature has mostly concentrated on heterosexual relationships with male perpetration and female victimization of IPV, focusing on why women enter and stay in relationships with IPV. While there are many factors why women enter relationships with IPV, these can include factors such as, prior abuse, mental health substance abuse, socioeconomic status, sex and culture. Additionally, there have also been numerous theories proposed to examine why women stay in abusive relationships including the investment model, comparison theory, and efficacy theory (e.g., Baker, Cobb, McNulty, Lambert, & Fincham, 2016; Clements, Sabourin, & Spiby 2004). While IPV is a complex topic, these factors can attempt to provide an understanding for IPV, in an effort to reduce the harmful beliefs that women should easily be able avoid and leave situations that involve IPV.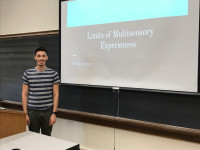 LIMITS OF MULTISENSORY EXPERIENCES
Multisensory illusions are illusions in which information across different modalities is combined to generate an altered perception of the real world. These illusions are perceptual illusions in the way they expand on how we combine information from different modalities. These illusions are susceptible to several limitations that weaken or abolish any illusory effects. This review investigates the nature of limits for different kinds of multisensory illusions. The illusions discussed include visuotactile illusions, audiovisual illusions, and synesthesia. Visuotactile illusions are limited by characteristics specific to the stimuli involved in the illusion. The rubber hand illusion is susceptible to the physical characteristics of the rubber hand, tools for stimulation, and bodily representations. The enfacement illusion is susceptible to affective limits from information provided by faces. Familiarity, interpersonal attitudes, and interpersonal reactivity can limit or facilitate the illusion. Audiovisual illusions are susceptible to the predominance of one modality over the other during integration. Synesthesia is susceptible to definitional limits in what is considered a synesthetic variant. These limits reveal how our brain combines information from different modalities as well as limit the extent to which variants of synesthesia are considered to be valid.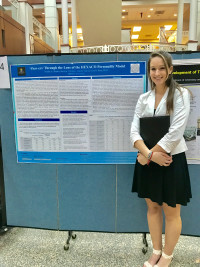 INFLUENTIAL FACTORS IN THE DEVELOPMENT OF EMOTION REGULATION IN CHILDREN AND ADOLESCENTS
Childhood and adolescence are periods marked by constant influence of development, especially in regard to effective emotion regulation.  The hierarchy of influences that youth are subjected to from infancy (ages 1-2) until adulthood (age 18) are of importance to their emotional intelligence and long-term development.  Using self-report questionnaires and laboratory tasks to assess emotion regulation, researchers identify four major factors that are significantly influential in its development: personality, parenting, socialization, and environment.  The importance of a child's inherent characteristics, parenting philosophies, as well as societal and environmental factors should not be overlooked as they each factor into a child's learned ability to effectively regulate his or her emotions. Researchers suggest that children who lack the opportunities to develop emotionally are at a greater risk for poor life outcomes (Sanders, Zeman, Poon, & Miller, 2015).  However, an awareness of the importance of these influences allow caregivers to target and promote effective emotion regulation skills as a means of enabling this highly impressionable age-group for future success.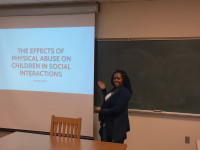 THE EFFECTS OF PHYSICAL ABUSE ON CHILDREN IN SOCIAL INTERACTIONS
The goal of this literature review is to examine how physical abuse affects children in their social interactions. Physical abuse is defined as any intentional act that causes trauma or injury to another person. This literature review, will discuss three different components in a child's life that can be affected negatively due to child maltreatment: perception of emotion, degree of empathy, and relationships. Children who were physically abused displayed disruptions in their development and social behavior. This literature review also examined studies that focused on prevention methods and ways to reduce physical child abuse.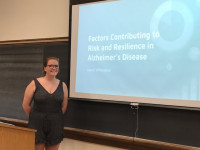 FACTORS CONTRIBUTING TO RISK AND RESILIENCE IN ALZHEIMER'S DISEASE
Alzheimer's Disease is the sixth leading cause of death in the United States and without a known cure, it will only continue to affect more individuals. Literature focuses on medical approaches to combat Alzheimer's Disease; however, this paper highlights non-medical factors that contribute to Alzheimer's Disease. Supported by past research, cognitive, behavioral, and health factors that contribute to risk and resilience of developing Alzheimer's Disease will be summarized in this literature review. Although much research has studied the disease, there is still a lot that is unknown. This author suggests that until we have a greater understanding, ways to alleviate symptoms or reduce the risk of Alzheimer's Disease onset should continue to be studied, as well as the unlikelihood of there ever being one set cure for Alzheimer's Disease.